MONTE SANITARY PAD is a high-grade feminine sanitary pads designed with the latest cutting edge technology which composed of a total of 8 layers where high level of quality assurance is enforced and monitored from the selection of raw materials to the entire production processes, in order to achieve the export quality requirement standard of the European countries and USA.
MONTE是一种高档女性卫生巾。它采用了最新尖端技术的八层设计,从选择原材料到整个生产过程都要经过的严格实施和监督以达到高水平质量保证,并达到欧洲国家和美国的出口质量要求标准。
MONTE adalah sejenis tuala wanita yang bermutu tinggi, terdapat 8 lapisan yang direka dengan teknologi canggih dan terbaru. Tahap kualiti terjamin tinggi dengan penguatkuasaan ketat dari pemilihan bahan mentah hingga keseluruhan proses pengeluaran demi mencapai standard kualiti eksport ke negara-negara Eropah dan Amerika Syarikat.


The main focuses of MONTE sanitary pads design are to suit the practical use for women menstrual period as well as for body health protection. It has been enhanced with many advanced technologies as to achieve the requirements of the modern women.
MONTE卫生巾的设计主要重点是于适合女性月经期的实用度以及维护身体的健康。 它是经过多个先进技术的研究以增强及满足现代女性的需求。
Fokus utama perekaan tuala wanita MONTE adalah untuk penggunaan praktikal wanita semasa kedatangan haid serta penjagaan kesihatan badan. Ia telah dipertingkatkan dengan beberapa teknologi yang canggih untuk mencapai keperluan wanita moden.


Product benefits | 产品功能 | Fungsi Produk:
Regulate menstrual period cycle | 调节月经的周期 | Mengawal kitaran tempoh haid
Relieve menstrual cramp / pain | 减少经痛 | Melegakan kesakitan senggugut
Anti-odor & reduce white discharge | 减少异味及白带 | Mengelak bau & keputihan
Improve fertility | 提高生育能力 | Meningkatkan kadar kesuburan
Anti-bacteria & anti-itch | 抗菌及抗痒 | Anti-bakteria & anti-gatal
Improve endocrine system, balance physiological function | 改善内分泌,平衡和协调生理机能 | Memperbaiki sistem endokrin & fungsi fisiologi
Cell activation, promote blood circulation & metabolism | 活化细胞,促进血液循环及新陈代谢 | Pengaktifan sel, menggalak peredaran darah & metabolism
Improve immune system | 提升免疫力 | Meningkatkan sistem imun

According to World Health Organization (WHO) analysis report, cervical cancer is the world's fourth most common female cancer. In 2018, an estimated 570,000 new cases and 311,000 deaths! 83% of the adult female genital area is infected, of which 62% is caused by improper usage or choosing the unqualified sanitary pad! Generally, unqualified sanitary pads are made of recycle paper and industrial chemical gum which contains a large number of chemicals and heavy metals. When in contact with human body part, it can easily contaminate the female's physiological environment and causing harm to the body. Therefore, the selection of a premium quality of sanitary pad is extremely important for women's health.
根据世界卫生组织( WHO) 报告, 子宫癌症是全世界排名第4最普遍的女性癌症。在2018年,估计有570, 000新案例及311, 000人死亡!现代有 83% 的成年女性生殖部位被感染,而当中有 62% 是因为使用不当或选用了不合格的卫生棉所引起!一般不合格的卫生棉用纸,是由报纸书本等废物回收的纸,回收的纸浆,添加一些化学成分而制成的。不合格的卫生棉背胶也大量采用了化学工业用胶,所含大量的化学及重金属等成分,在接触人体后可污染女性生理环境,而造成身体的伤害。可见,选择优质的卫生棉对女性的健康是极为重要的。
Menurut laporan analisis Pertubuhan Kesihatan Sedunia (WHO), barah pangkal rahim adalah kanser wanita yang ke-4 paling tinggi di dunia. Pada 2018, 570,000 kes baru dianggarkan dan 311,000 kematian! 83% kawasan kemaluan wanita telah dijangkiti , dimana 62% disebabkan oleh penggunaan yang tidak senonoh atau memilih tuala wanita yang tidak berkelayakan! Pada umumnya, tuala wanita yang tidak berkelayakan diperbuat daripada kertas kitar semula dan pelekat jenis industri yang mengandungi bahan kimia dan logam berat yang tinggi. Bila berhubung dengan bahagian badan manusia, ia boleh dengan mudah menjangkiti persekitaran fisiologikal wanita dan menyebabkan kerosakan badan. Oleh sebab itu, pemilihan tual wanita yang berkualiti premium adalah sangat penting untuk menjaga kesihatan kaum wanita.


Women today has been facing many disturbances where in most cases are due to the wrong selection of the below standard sanitary pads, which eventually lead to many physical health problems.
今天的妇女面临许多骚乱,在大多数情况下,由于错误选择下面标准的卫生巾,最终导致许多身体健康问题。
Wanita hari ini menghadapi banyak gangguan dimana kebanyakannya disebabkan oleh pemilihan yang tidak betul di sanitary pad yang di bawah ini, yang akhirnya menyebabkan banyak masalah kesihatan fizikal.


How to Select the Right Sanitary Pad | 如何正确的选择卫生巾 | Bagaimana Memilih Tuala Wanita Dengan Betul?



Normal brand | 一般品牌 | Jenama biasa

MONTE
Basic structure
基本构造
Struktur asas
Chemical Materials
化工材料
Bahan Kimia
High-Quality Materials
优质材料
Bahan-bahan berkualiti tinggi
Surface Layer
表层
Lapisan Permukaan
Paper/Plastic Surface
纸/槊料表层
Kertas / Permukaan Plastik
Soft Cotton Surface
柔棉表层
Permukaan kapas lembut
Absorption Layer
吸收层
Lapisan Penyerapan
Recycle Paper / Recycle Paper with low quantity of SAP
再生纸 / 再生纸加少量吸水分子
Kertas Kitar Semula / Kertas Kitar Semula dengan SAP yang kuantiti rendah
High Grade SAP (Super Absorbent Polymer) – Plant Extract
高品质吸水分子(植物提炼)
SAP (Super Absorbent Polymer) bergred tinggi – Ekstrak Tumbuhan
Bottom Layer
低层
Lapisan Bawah
Not Permeability
不透气低膜
Tidak Bernafas
Permeability
透气低膜
Bernafas
Base Sticker
底膜粘胶
Pelekat Bawah
Industrial Gums
工业胶
Gusi Perindustrian
Food Grade Gum
食品胶
Gusi Gred Makanan

The most common concerns on women's menstruation | 女性月经最关心的问题 | Kebimbangan yang paling umum mengenai kedatangan haid wanita:

1.Irregular menstruation and menstrual pain | 月经不调和月经疼痛 | haid tidak teratur dan senggugut
2.Comfort level when wearing |穿着时的舒适度 | Tahap keselesaan semasa memakai
3.Fluid absorption level of sanitary pads | 卫生巾的液体吸收水平 | Tahap penyerapan cecair dalam tuala wanita
4.Menstrual infection | 月经感染 | Jangkitan semasa haid
5.Excessive vaginal discharge after menstrual period | 经期后阴道分泌物过多 | Pelepasan cecair berlebihan selepas haid


Product Demo | 产品示范
Product Testimony | 产品见證 | Produk Testimoni:

Ivy Choong Age: 39
I have problem with menstrual disorder. My period comes with small volume and sometime it would last for a month. After I have used Monte, my menstrual period has been back to normal and now is finished in a week time. My menstrual is getting more smooth now and I feel more relieve and energetic!
我之前面对经期不规律的问题,來经似乎到整个月,而且还是小量的來。自从用了Monte之后,我的经期已回復至一个星期,经液也來的很顺畅,感觉到非常轻松亦精神奕奕!
Saya terdapat masalah gangguan haid. Tempoh haid saya datang dengan sedikit dan ada masanya ia akan datang sepanjang sebulan. Selepas saya telah menggunakan Monte, tempoh haid saya telah kembali macam biasa dan sekarang ini sudah berakhir dalam masa seminggu. Haid saya dating lebih lancar dan saya berasa lebih melega dan bertenaga!

Stephanie Low Age: 25
Due to my busy working lifestyle, I always feel tired. When I started to use Monte Pantyliner, I feel that my white discharge has been reduced and no more odor smell. Most importantly even my dad also can notice the improvement of my fairness and healthy skin. Monte Pantyliner is really thin and breathable, I can barely feel like I am wearing it!
每天因为忙碌的工作而感觉疲惫。当我开始使用Monte护垫,我觉得白帶的分泌减少了,異味也消失了。最重要的是连我的父亲都发觉到我的脸色变得更有活力。Monte护垫真的非常超薄而且透气,像没穿一样的轻松!
Saya selalu rasa letih disebabkan oleh kesibukan perkerjaan saya. Apabila saya mula menggunakan Monte Pantyliner, saya berasa yang pelepasan keputihan saya telah dikurangkan dan tiada lagi bau buruk. Malah ayah saya juga dapat perhatikan perubahan baik dalam kulit and kesihatan saya. Monte Pantyliner betul-betul nipis dan boleh bernafas, saya hampir tidak terasa memakainya!

Carmen Wong Age: 31
I always opt for the longest sanitary pad available in market during menstrual period, but most of time it will leak. When I start using Monte Day Use (which is not supposed to be use for night time), it was so amazed that it absorption is so great until it did not leak out until the next morning and I have enjoyed a good sleep without any interruption.
每次经期我都选择用巿面最长的卫生巾,但多次都有侧漏的形况。开始使用Monte曰装,它的吸收力令我觉得非常惊讶,到我早上起床也没有侧漏,而且也睡得很舒适。
Saya selalu memilih tuala wanita yang paling panjang di pasaran semasa tempoh haid, tetapi kebanyakan masa produk itu mengalir keluar. Bila saya mula menggunakan Monte Day Use (yang mana ia bukan patut untuk digunakan waktu malam), ia sangat menakjubkan kerana penyerapannya hebat sangat sehingga ia tidak mengalir keluar sehingga keesokan pagi dan saya telah menikmati ketiduran yang nyenyak tanpa sebarang gangguan.

Ms Chan Age: 38
My menstrual was disordered after the delivery of my first son 8 years ago. I was so fortunate being introduced to Monte and after I used it for 2 months, my menstrual period is back to normal and after 6 months later, I am so lucky to get pregnant again after long wait.
当我再八年前生了第一个儿子之后,我就有经期不规律的问题。很幸运的我遇上了Monte,我用了兩个有月后,经期回復正常,半年后我真的再怀孕了!
Gangguan haid saya telah bermula selepas bersalin anak lelaki pertama 8 tahun yang lepas. Saya sungguh bernasib baik diperkenalkan kepada Monte dan selepas saya menggunakannya selama 2 bulan, tempoh haid saya telah kembali biasa dan selepas 6 bulan kemudian, saya telah dapat mengandung sekali lagi selepas penantian yang cukup lama.

Emily Lee Age: 28
I always have menstrual pain in the past. Through my friend recommendation, I have tried to use Monte. So surprisingly, my period finally comes so smoothly with much lesser pain and I can feel that some of my body toxin was also discharged with the blood. I feel so relieve and more energy now.
我以前有经痛的问题,通过朋友的介绍,我使用了Monte。來经的过程很顺畅,体内的一些毒素也随经液排出來。现在我觉得更有精力。
Saya sentiasa mengalami kesakitan haid pada masa dahulu. Saya telah mencubakan Monte melalui nasihat kawan saya. Sungguh menakjubkan, tempoh haid saya telah datang kembali biasa dan lancer, kesakitan haid semakin berkurangan. Saya boleh berasa toksin dalam badan saya telah keluar dengan kedatangan haid. Saya rasa sungguh melegakan dan lebih bertenaga sekarang.


Product Materials | 产品原材料 | Bahan Mentah Produk:
Ultra soft cotton surface layer enhances the fluid absorption effects. Use of 100% cotton to provide gentle care to the female when interact with it.
柔软超薄的棉花表层能提高液体吸收的效果。使用柔软和干爽的100%纯棉表面层能给于最舒柔的感觉。
Lapisan kapas yang terlembut meningkatkan kesan penyerapan cecair. Penggunaan 100% kapas akan memberikan penjagaan selesa kepada wanita apabila berinteraksi dengannya.

3-in-1 core stripe with Negative Ions, Nano Silver and Far Infra Ray for health & hygiene effects. Negative Ions with cleansing function which ions count up to 6,120 cm³, effective cleaning for vagina and uterus. Nano Silver with protection function to prevent bacteria growth. Test report shown that it is able to kill bacteria up to 99.99%. Far Infrared Ray with physical improvement function. Effectively promotes blood circulation, improve endocrine, rejuvenate cells.
负离子、纳米银、远红外线的三合一芯片能有效帮助个人健康及卫生。负离子有净化功能。离子共计至6,120厘米³,能有效清洁阴道和子宫。纳米银有保护功能。测试报告显示,它能够99.99%杀细菌。远红外线有身体改善功能。有效促进血液循环,改善内分泌,再生细胞等。
Cip 3-dalam-1 dengan Negative Ions, Nano Silver dan Far Infrared Ray memberikan kesan kesihatan & kebersihan peribadi. Ion Negatif yang berfungsi pembersihan terdapat pengiraan ion sehingga 6,120 cm³, berkesan untuk pembersihan rahim. Nano Silver berfungsi sebagai perlindungan untuk mencegah pertumbuhan bakteria. Laporan ujian menunjukkan bahawa ia mampu membunuh bakteria sehingga 99.99%. Far Infrared Ray dengan fungsi memperbaiki fizikal tubuh, berkesan untuk meningkatkan peredaran darah, endokrin, pemudaan sel.

Hygienic ultra soft dust-free layer with 360° wrap to provide dry and comfortable surface by locking the fluid absorbed SAP in stable and stagnant position.
无尘纸以360° 度包层提供舒适干爽的表面。
Lapisan Tidak Berdebu dengan 360°pembungkusan memberikan permukaan yang kering & selesa dengan mengunci bendalir yang diserap SAP dalam situasi yang kekal dan stabil.

"Super Absorbent Polymer" (SAP) from Japan with powerful fluid absorption which turns fluid to liquid gel form as to lock it from flowing back to surface. SAP with strong ability to lock fluid as to ensure the surface layer is always in dry condition. Up to the capacity up to 270ml (equivalent to 5 - 6 days of menstrual blood volume).
日本高份子(SAP)拥有超强的液体吸收功能,它能将液体转为凝胶形式并锁定和防止液体回流去表层。SAP的超强锁水功能能维持表面层的干爽状态。吸水功能达到250毫升 (相当于5-6天的月经血量)。
"Polimer Penyerap Hebat" (SAP) daripada Jepun dapat menyerap bendalir dengan berkesan. Ia menukarkan bendalir yang diserap kepada bentuk gel cecair untuk mengelakkannya daripada pengaliran kembali. SAP berupaya untuk mengunci cecair sambil memastikan lapisan permukaan sentiasa dalam keadaan kering. Penyerapannya adalah sehingga kapasiti sehingga 270ml (bersamaan dengan 5 - 6 hari isipadu darah haid).

The super leak-proof layer provides additional supports and protects the ultra soft dust-free layer from fracture and permeates to the bottom layer.
超强防漏层支援及保护无尘纸的折漏及渗透到底层。
Lapisan anti-kebocoran yang hebat untuk menyokong dan melindungi Lapisan Tidak Berdebu daripada peretakan dan bendalir menebusi ke lapisan bawah.

Breathable back layer enables unhygienic air from within to flow out as to eliminate environment for bacteria growth and unpleasant odour, keeping the refreshing feel when wearing.
透气的底层让不卫生的内部空气能流出以消灭细菌成长环境及不良的气味。透气的底层确保潮湿气味能从内部释放出来,以让您能一直有舒适的感觉。
Lapisan bawah yang bernafas membolehkan udara kotor daripada dalam mengalir keluar demi menghapuskan persekitaran untuk pertumbuhan bakteria dan bau tidak menyenangi.

The application of food grade gum, comply with ergonomics standard.
食品级胶,符合人体工程学的标准。
Pelekat gred pemakanan, mematuhi standard ergonomik.
Product Packaging Specification | 产品包装规格 | Spesifikasi Pembungkusan Produk: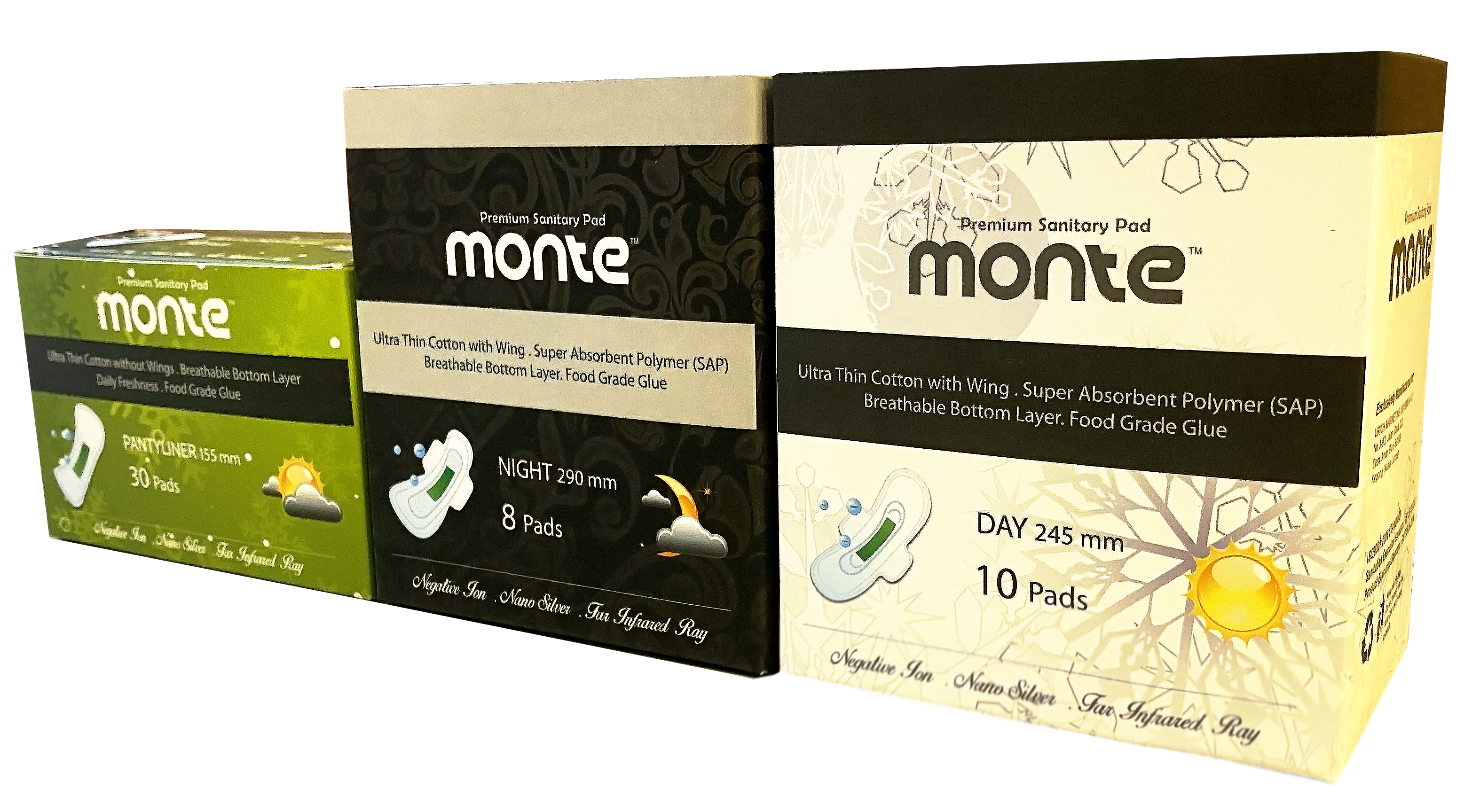 Day Use 245mm (10 pads per box) | 日用245mm(每包10片)| Penggunaan Hari 245mm (10 keping sekotak)
Night Use 290mm (8 pads per box) | 夜用290mm(每包8片)| Penggunaan Malam 290mm (8 keping sekotak)
Pantyliner 155mm (30 pads per box) | 护垫 155mm(每包30片) | Pantyliner 155mm (30 keping sekotak)

MONTE SANITARY PAD in the entire production process is completely complied to a number of quality certifications:
MONTE卫生棉在整个生产过程中的完全符合许多质量认证:
MONTE SANITARY PAD telah mematuhi beberapa pensijilan kualiti dalam keseluruhan proses pengeluaran :

1.ISO 9001:2008 STANDARD
2.Sanitation Execution Standard: GB 15979-2002
3.Product Execution Standard: GB/T 8939-2008
4.Textile Industry Quality Supervision Center for Chemical Fiber Product.
5.Testing / Calibration Laboratory of Shanghai
6. Guangdong Detection Center of Microbiology